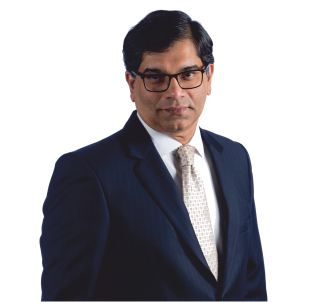 Partner | Securities and Regulatory, Public M&A, Corporate and Commercial
education
LL.B., Government Law College (1998)
B.Sc., Mumbai University (1994)
Registered Patent and Trademark Agent
Professional Affiliations
Bar Council of Maharashtra & Goa
The Trade Mark Registry, The Geographical Indications Registry and The Patent Office, India
Representative Matters
Arindam Ghosh has represented and advised the following clients
Reliance Industries Limited and other group companies
Advised in the simultaneously triggered open offers for Hathway Cable and Datacom Limited, Den Networks Limited, GTPL Hathway Limited and Hathway Bhawani Cabletel Datacom Limited.
IHH Healthcare Berhad, Parkway Pantai Limited
Advised in the open offers triggered by subscription of shares in Fortis Healthcare Limited.
Reliance Industries Limited
Advised on restructuring of promoters holding by inter-se transfers amongst promoter group entities - the largest inter-se promoter transfers of a listed company.
Foxconn Group and Sharp Corporation
Advised on their open offer to shareholders of Sharp India triggered by an overseas acquisition.
Standard Chartered Bank
Advised client in their role as the merchant banker to the open offer announced by Wilmar Sugar Holdings Pte Ltd and others in respect of Renuka Sugars Limited.
Groupe SEB
Advised in the acquisition of a majority stake in Maharaja Whiteline Industries Limited.
INEOS Group
Advised on the transaction involving LANXESS Group's decision to globally sell its styrenic resins business. Also advised INEOS on proceedings with the SEBI and the Securities Appellate Tribunal in relation to certain promoters receiving consideration for non-compete undertakings.
Edelweiss Financial
Advised merchant banker to the open offer triggered by subscription by SBG Projects in shares of Maytas Infra Limited.
Titan Inc. and Titan Europe plc
Advised in the open offer to shareholders of Wheels India Limited.