The leading full-service law firm in India with over 600+ professionals with diverse skills and experience of intricate, high-profile and path breaking engagements. Team of highly motivated partners, lawyers and professionals delivering exception client service and expert legal advice across a wide gamut of sectors and industries. The Firm's endeavour has been to be proactive and exceed client expectations. We take pride in our approach to work that focuses on understanding clients' business and anticipating their legal needs (present and future) and provide pragmatic and commercial solutions.
Our vision is to be one of the most progressive and innovative global law firms. For us, "progressive" and "innovative" are mindsets and attitudes, an approach to how we do things. We instinctively take a fresh perspective on situations, exploring whether there are newer and better ways of delivering practical, commercial solutions to the challenges our clients face in today's rapidly changing business landscape.
In News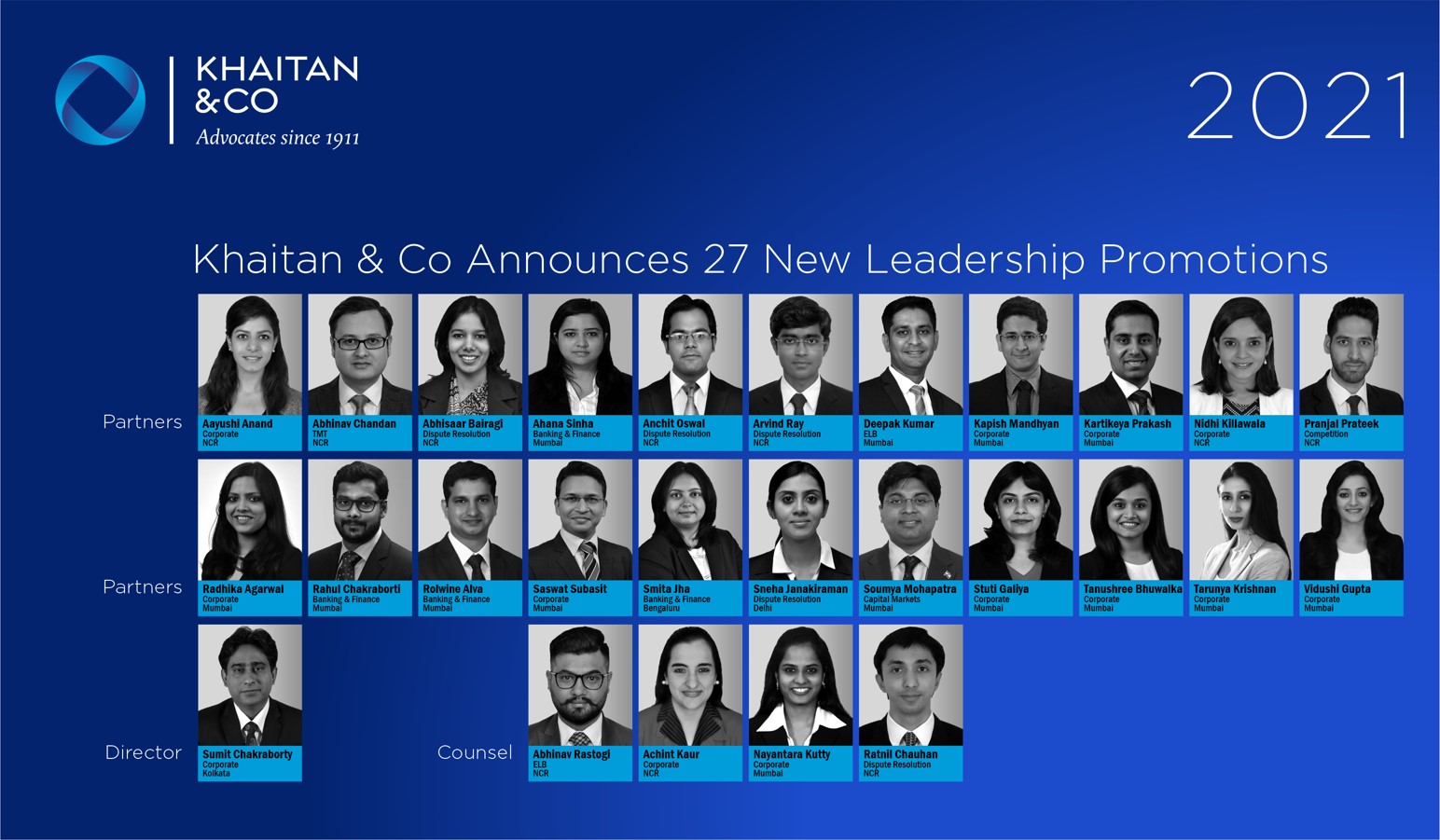 Find out how our experts can help solve the challenges you face in your industry.
Contact Us
Very responsive and available - I get a global team working across many time zones. The lawyers are very commercially oriented, practical & strategic.
Chambers Global 2016: Banking & Finance
Our Foundation
Over a century of experience in providing cutting-edge advisory services across all disciplines giving timely and commercially viable solutions to complex business and legal issues. We provide an integrated and solution oriented approach for every transaction and advice sought. Partner-led transactions to give clients the comfort and confidence they seek.
Best practices by investing in latest technological support and implementing the best knowledge management methods available and Global coverage by sharing current legal, regulatory and procedural updates critical to our clients' business and organisation
Practice Area Experts

Innovation

An Umbrella of Services

Impeccable Project Management

Apt Team Allocation
Leadership Team
The Firm is run by an elected Executive Committee which comprises of partners from all offices of the Firm. The Executive Committee is responsible for strategic direction and management oversight and is assisted by the Firm's Management Team in the day-to-day running of the Firm as well as implementation of key strategic and operational initiatives across the Firm.
History
1911-1920
1941-1950
1951-1960
1961-1970
1971-1980
1981-1990
1991-2000
2001-2010
2011-2020
1911
Founding Day

Debi Prasad Khaitan and J.N. Mazumdar set up the first Khaitan & Co office at 10, Old Post Office Street, Kolkata
1947
Debi Prasad Khaitan was appointed as one of the members of the drafting committee of The Constitution of India
1948
Khaitan & Co handled the deal between R.K. Dalmia and the Sahu Jains for Bennett Coleman & Co, owner of "The Times of India"
1959
Khaitan & Co implemented India's first ever demerger for sugar companies Balrampur and Tulsipur at a time when the Companies Act only contemplated mergers under schemes of rearrangement
1970
Opened the Delhi office to continue providing legal support to client branching out from Kolkata
1980
Khaitan & Co advised the trustees of the Nizam of Hyderabad on wealth tax and valuation of the Nizam's jewels
1990
Khaitan & Co advised on the long-winding split of Indian Express post Mr Ramnath Goenka's demise
1994
Opened the Bengaluru office at the very nascency of the IT industry
2001
Opened the Mumbai office on the 90th anniversary of the Firm
2004
Khaitan & Co advised on the contentious Priyamvada Devi Birla will case
2005
Khaitan & Co advised on SREI's LSE listing, the very first Indian NBFC to do so
2011
Khaitan & Co celebrates a century of excellence
2019
650+ lawyers including partners